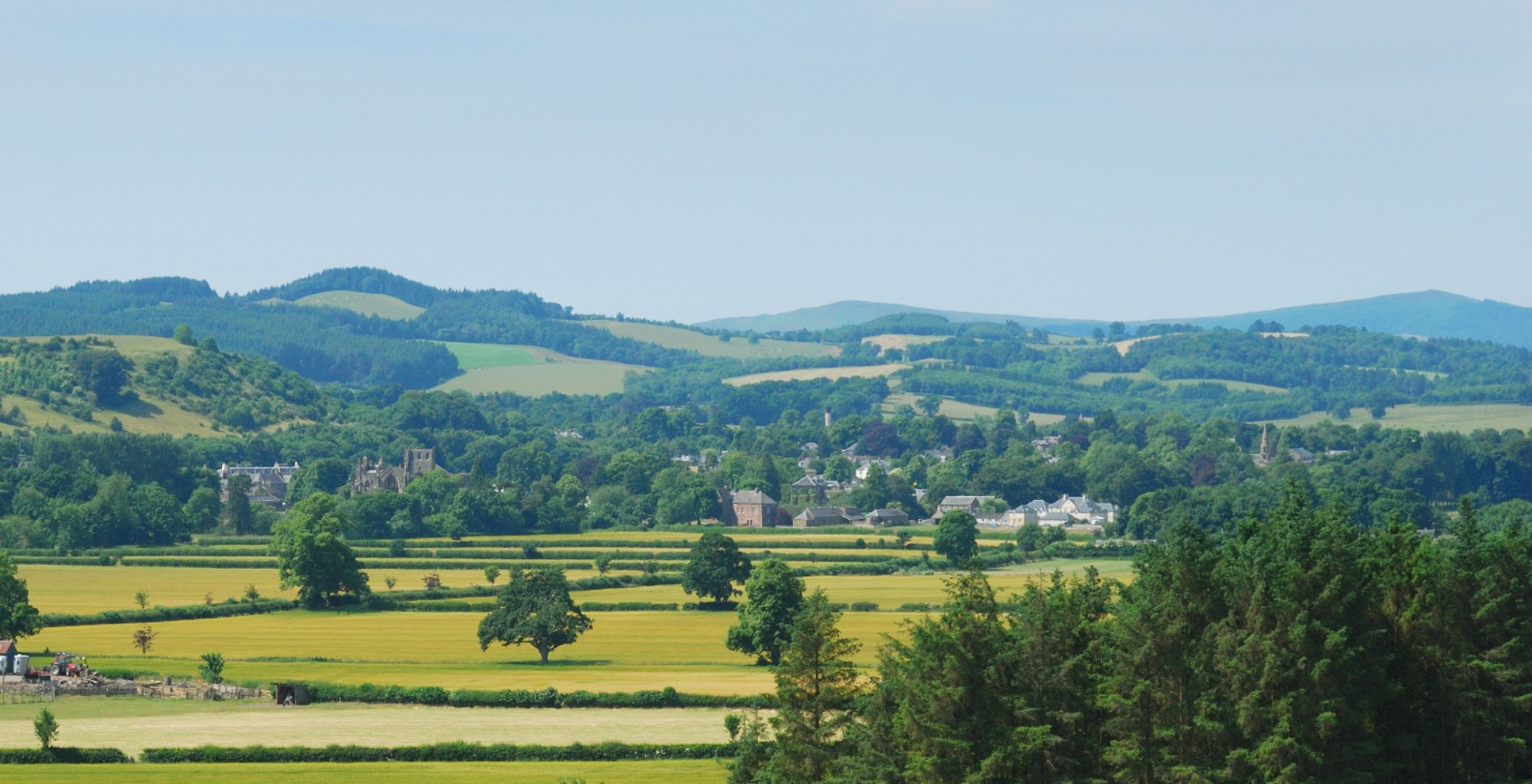 Best Small Towns in Scotland
Published May 25th 2022
6 mins read
Away from the larger city centres of Edinburgh, Glasgow, Inverness and Aberdeen, some of the best small towns in Scotland are not as packed with tourists during summer and have cheaper house prices to match their quieter locales. 
Their small size often belies the surprising amount on offer; from good schools and friendly communities to a wealth of independent eateries, outdoor activities and outstanding scenery.
We look at some of the best small towns in Scotland that are proving popular with home buyers.
Kingussie, Cairngorms National Park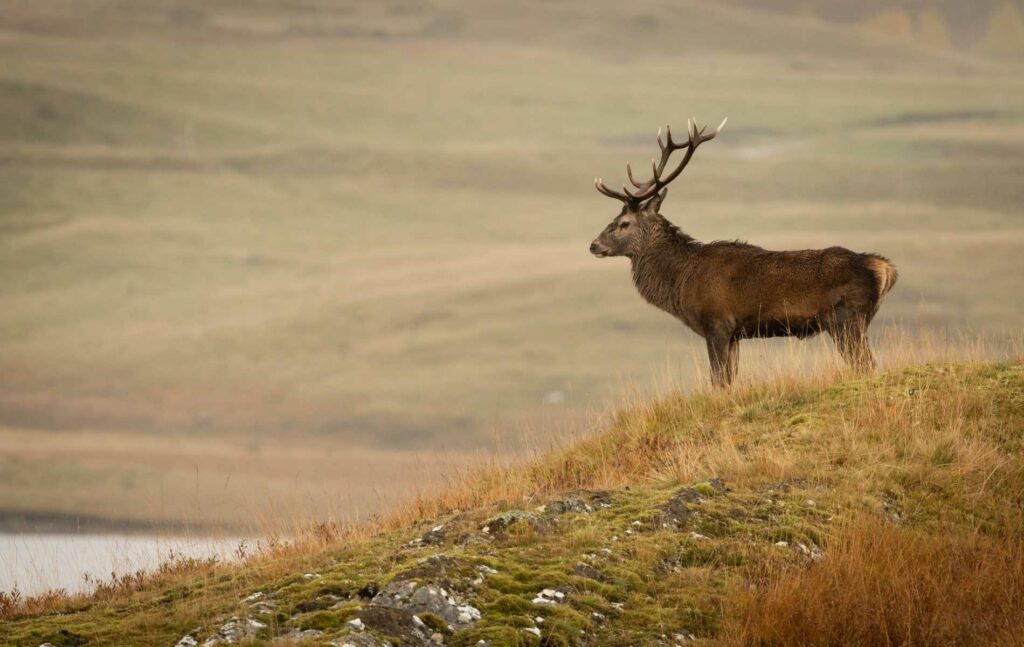 A small town in the Cairngorms National Park, Kingussie is the capital of Badenoch in the Highlands.
It's a lovely, lively town set beside the River Spey offering stunning countryside and rugged mountains around the area.
Outdoor enthusiasts are attracted to live in Kingussie because of the range of activities available.
Hill walking, horse riding, cycling, skiing, shooting and fishing are all popular pastimes, while birdwatching and pleasant rambles about the countryside can be had in the summer months.
For keen golfers, Kingussie has a challenging 18-hole hillside golf course that rises to 300 metres above sea level, and offers spectacular views of the National Park.
The town itself, though small with a population of under 1,500, has award winning eateries with local products being showcased on menus.
Kingussie is on the main railway line to Inverness, Edinburgh and Glasgow. Inverness airport is also accessible from the town at just over 30 minutes drive.
Fortrose, Black Isle
Located on the Black Isle peninsula, 20 minutes' drive north of Inverness, the quaint Highland town of Fortrose, offers spectacular ruins, picturesque churches and breathtaking landscapes.
It has lovely ornate Victorian homes, especially surrounding Cathedral Square.
Fortrose is popular with families as Fortrose Academy, a six year secondary school, is based here and the primary school in Avoch is a five minute drive from the town.
Much wildlife can be spotted here, with dolphins at Chanonry point, and seals and otters in Moray Firth inlet. Rosemarkie Beach is a 10 minute walk from the town.
In August, the annual St. Boniface Fair draws in visitors to celebrate Highland culture and features crafts, performances and music. Locals often wear traditional costumes for the celebrations.
Fortrose offers several tearooms and restaurants, a selection of small shops plus a leisure centre and a gym near the school. Supermarkets will also deliver to the area.
Inverness Airport is a half hour's drive from Fortrose and receives flights from London, Manchester and Belfast.
Dornoch, Sutherland
Slightly further up the east coast, an hour's drive from Inverness, is Dornoch, named as one of the top 10 places to live by the sea in the Sunday Times.
It is home to top-class Royal Dornoch Golf Club, one of the oldest links courses in Scotland.
The town's stunning beaches and coastal scenery entice would-be residents, with activities such as walking, fishing, and nature spotting on offer.
Dornoch Beach is wild and wonderful with views across the water to the Tarbat Ness lighthouse, while dolphins, otters, seals and seabirds can be spied at Loch Fleet National Nature Reserve.
Local distilleries in the area include Glenmorangie, a 10 minute drive from the town, and the Thompson family's organic Dornoch Distillery.
The Dornoch Castle Hotel has been cited as the best whisky hotel in the world.
Dornoch town centre is full of useful day-to-day shops and cafes, and restaurants, as well as unique specialty shops and high-end retailers, such as chocolatier Cocoa Mountain.
Schools include Dornoch Academy and two associated primary schools.
North Berwick, East Lothian
North Berwick was recently named by The Sunday Times as the best place to live in Scotland.
What better way to unwind at the end of a busy working week, by having a dip in the sea or walking your dog along the long sandy beaches?
The town also has access to some of the country's best golf courses.
The property market here is booming with people looking for a coastal retreat or family home served by fantastic local amenities.
During the summer the town hosts the much loved "Fringe by the Sea" festival which draws many big names to the town.
The local state schools are regarded as the best locally, but there are also superb preparatory schools close by (Belhaven Hill in Dunbar & Compass School in Haddington).
Transport links to Edinburgh with a 35 minute train ride to the heart of the capital, make it extremely attractive for the commuter.
Melrose, Scottish Borders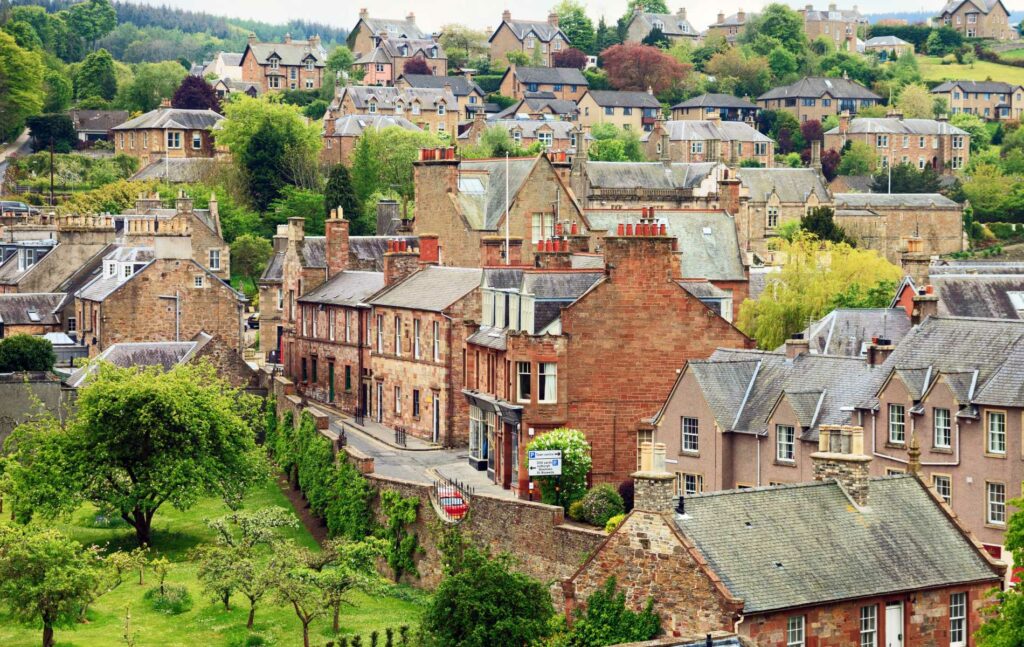 Melrose is a small town and civil parish in the Scottish Borders, historically in Roxburghshire.
Rugby union has always been the most popular sport in Melrose and it is the birthplace of Rugby Sevens.
Every year on the second Saturday in April the famous Melrose Sevens are held at the Greenyards and it is the biggest annual sporting event held in the town.
Melrose Golf Club is a nine-hole golf course situated on the edge of the town at the foot of the Eildon Hills, while Melrose Cricket Club is next to Borders General Hospital at Huntlyburn.
Every June, the week-long Melrose Festival takes place; this involves appointing a Melrosian who has lived in the town for most of his life.
Melrose is now also host to the annual Borders Book Festival that also takes place during June.
From Melrose there is easy access to Edinburgh via the Borders Light Railway station at Tweedsmuir, so it could arguably be regarded as a commuter town.
Inverurie, Aberdeenshire
Close to many majestic castles, Inverurie is known as the 'Heart of the Garioch' and the town itself is brimming with history.
The town attracts house buyers looking for a base to access nearby Aberdeen whilst remaining close to the vibrancy of city life.
In recent years, Inverurie has seen increasing numbers of Aberdeen commuters going to live there, making it one of the fastest growing towns in the UK.
Inverurie is a short distance from a popular range of hills, the Bennachie, which are favoured by local hillwalkers.
A monthly farmers market is held, and the many small shops, businesses and services circumvent the need to travel outside the township.
Five primary schools are on offer and Inverurie Academy, a mixed secondary school.
The Inverurie railway station is on the Aberdeen to Inverness Line, making both cities very accessible.
Stonehaven, Aberdeenshire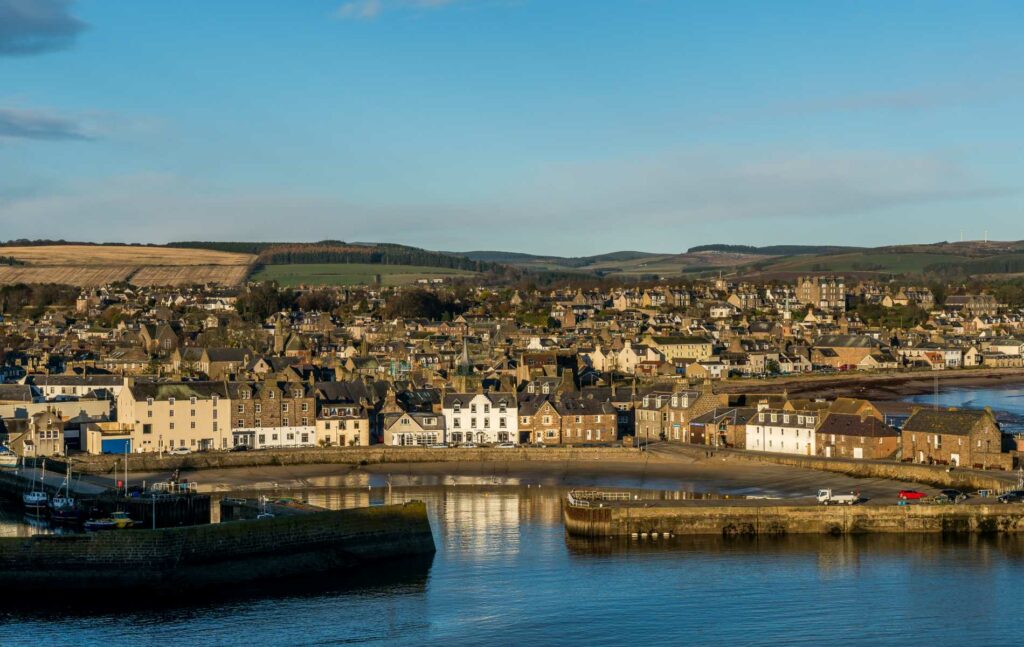 Stonehaven is located south of Aberdeen along the Aberdeenshire Coast.
It boasts its own sandy seafront and picture perfect harbour featuring the Stonehaven Heated Open Air Swimming Pool.
One of the region's most notable landmarks and visitor attractions, Dunnottar Castle, is situated on the top of a craggy cliff-edge.
The town is home to some of the region's top eateries including award winning fish and chips and a seafood restaurant.
There is a secondary school, Mackie Academy, and three primary schools.
Stonehaven is served by regular trains from Aberdeen, Edinburgh and Glasgow.
Dunblane, Stirlingshire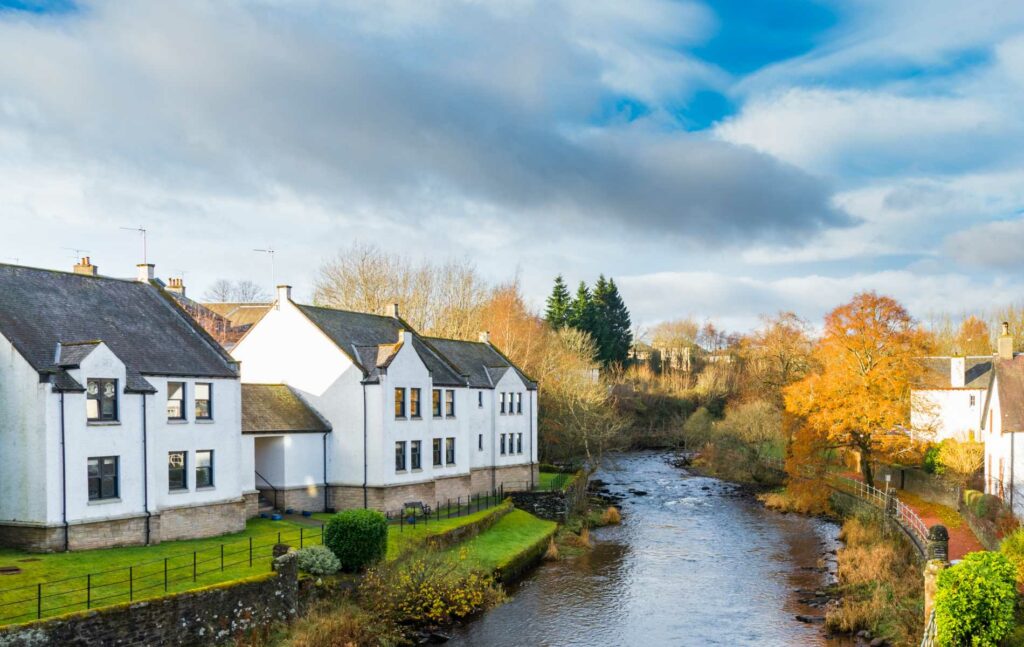 With its central location, Dunblane is a ten minute drive north of Stirling, and within an hour of the Trossachs National Park.
Home buyers are attracted to the small town for the range of housing choices, reputable schools and friendly community.
Here you can find stone-built flats, whitewashed cottages along with large Victorian villas and modern executive homes, all at favourable prices.
The traditional town centre has a bustling High Street offering a range of retailers, eateries, gift shops, bistros and restaurants.
Hillwalkers and nature lovers are spoiled for choice, and there are local biking trails suitable for all ages, as well as plenty of local activities and clubs.
Dunblane is home to the Murray tennis family and top performing secondary school Dunblane High, recently ranked second in Scottish state schools for Higher exam results.
There are three primary schools for younger children and not far from Dunblane is The University of Stirling.
Easy access to the A9 makes both Edinburgh and Glasgow reachable in under an hour by car and even less via the direct train service.
Dunblane is on the main railway line and offers regular direct services to Stirling, Edinburgh and Glasgow for commuters.
Aberfeldy, Perthshire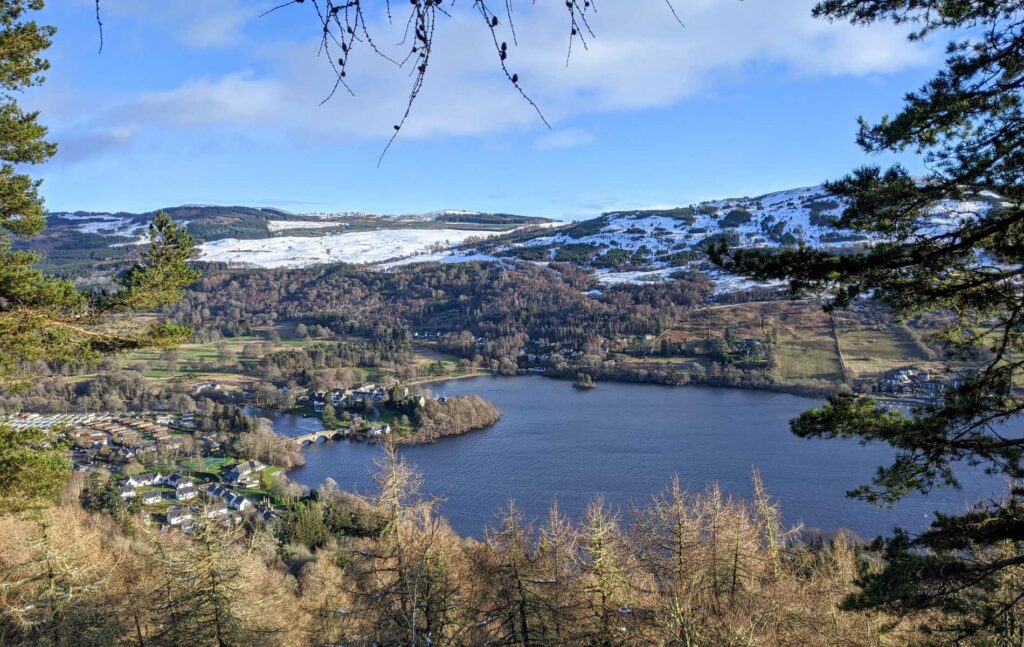 Despite being a small village, Aberfeldy has a lot to offer with a cinema, a good school and several pubs.
Made famous by poet Robbie Burns and home to the Dewar's Whisky Distillery located on the outskirts, Aberfeldy is also known for its friendly locals.
This lively town is surrounded by the scenic Perthshire mountains with stunning views northwest to Glen Lyon and Ben Lawers.
Golf, fishing and watersports at Loch Tay are popular outdoor activities, and there are plenty of restaurants and cafes at your disposal.
Auchterarder, Perthshire
Auchterarder is often referred to as the 'Lang Toun' because it stretches out along the line of a single main road that descends from west to east.
It offers wide views and more of a sense of the surrounding countryside than you would normally find in such an urban setting.
Many outdoor activities are available in Auchterarder, including walking, cycling, climbing, clay pigeon shooting and even paragliding.
The Sma Glen, Glen Quaich and Glen Lyon are three superb walking areas close to town and suit walkers of all levels.
The town supports many small independent businesses including hairdressers, cafes and bistros. Tullibardine Distillery is located just a few minutes from Auchterarder.
Families are attracted to the town owing to its proximity to several top rated state and independent schools.
From Auchterarder, a commute into Glasgow, Edinburgh or Stirling is possible in around an hour.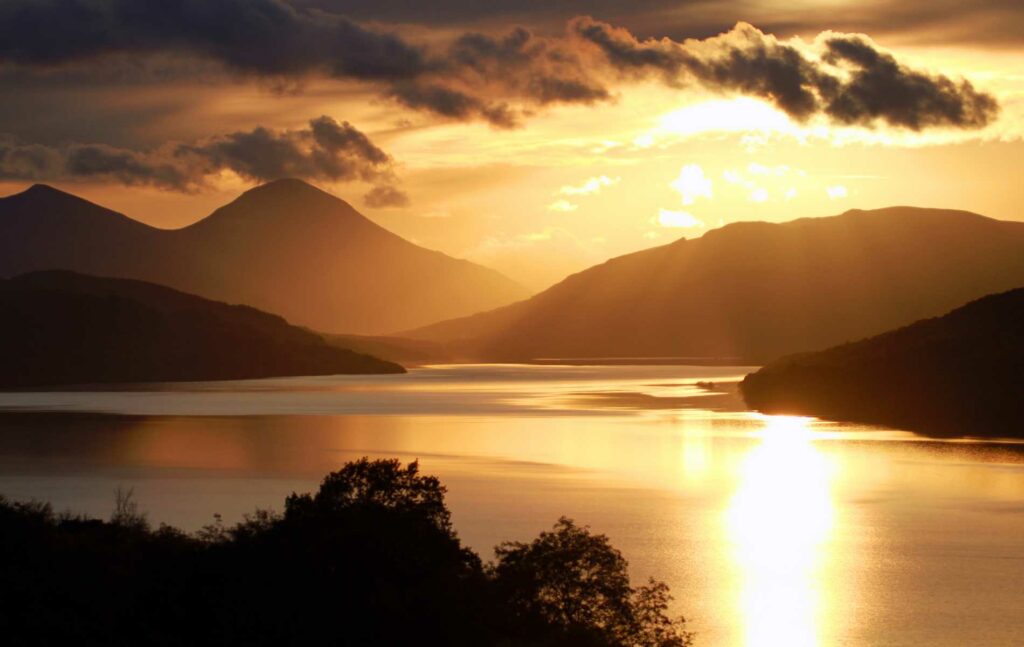 Best small towns in Scotland
As property finders, we often assist clients in deciding the best small towns to live in Scotland based on their requirements and preferences.
Get in touch with one of Garrington's team to discuss how we can best assist in your search for a dream home north of the border.