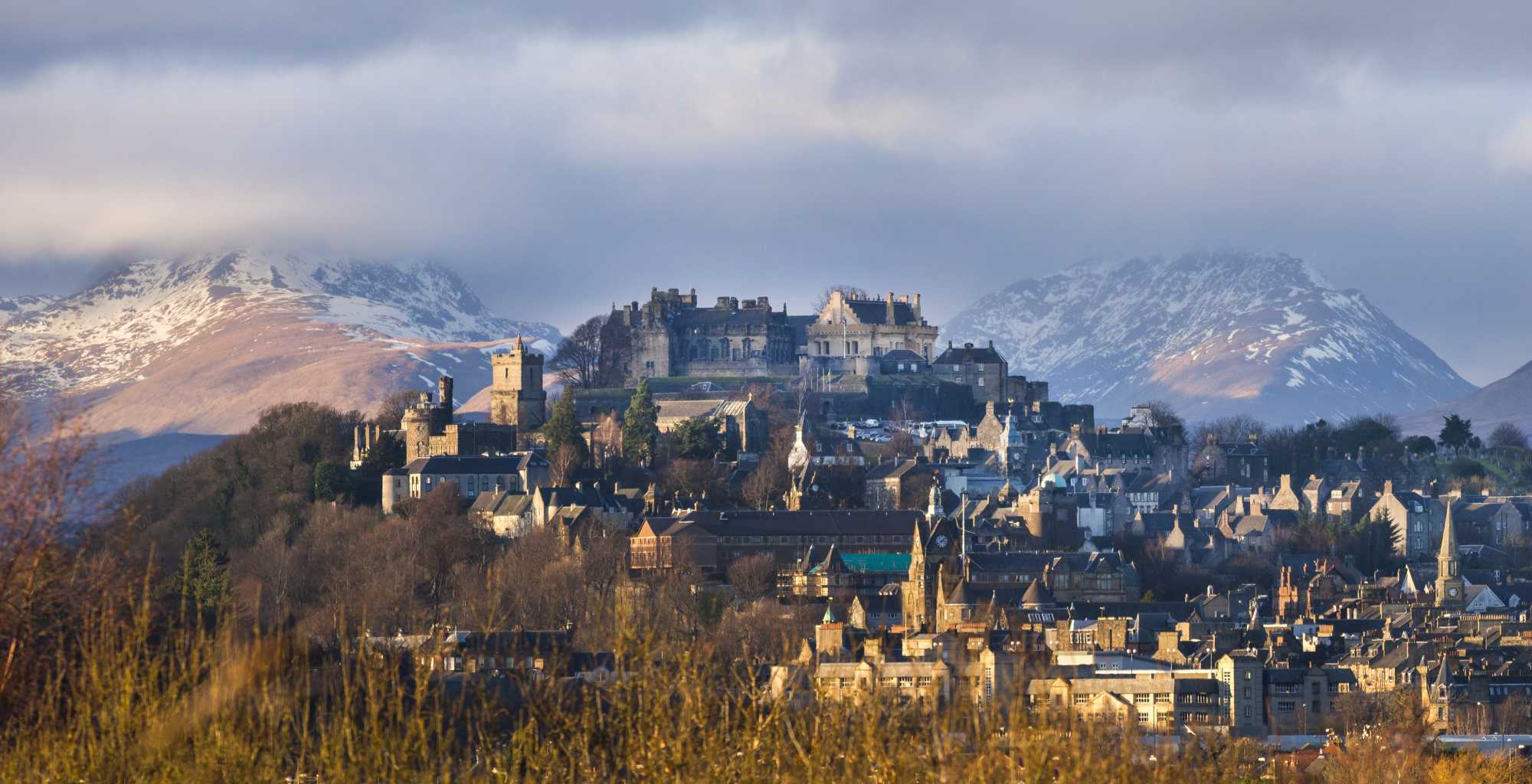 Best cities in Scotland to live
Published May 20th 2022
5 mins read
Are you looking for a better work/life balance; a safe, friendly community to raise your family or easy access to the great outdoors?
If so, then add these top five Scottish cities to your list of considerations.
In terms of property, Scotland can on a number of occasions offer better value for money than some parts of the UK – whether you're searching for a New Town apartment in Edinburgh or a family house in Aberdeen, you'll likely get more choice for your budget. 
The price of living in Scotland is a lot lower than London and you may be surprised at the competitive salaries on offer compared to other parts of the UK.
You'll also find that Scotland boasts excellent schools, several of the country's top universities, and myriad opportunities for historical, cultural, leisure and sporting activities.
Here's our pick of the top five best cities in Scotland to live and why they are such popular places to look for a home.
Edinburgh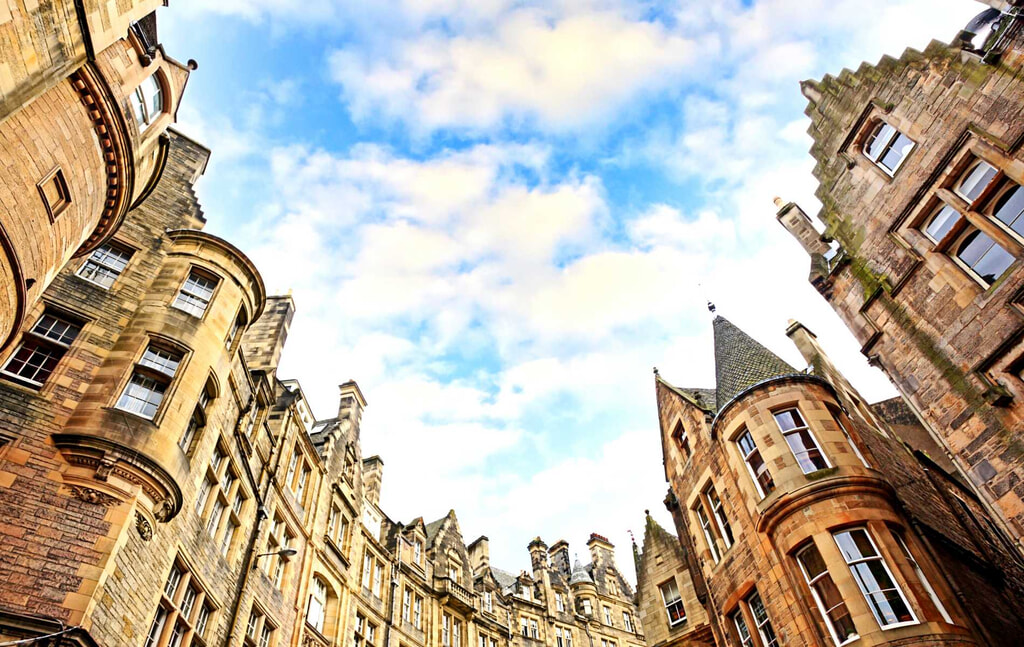 When the UK's major cities are compared in terms of the quality of life, financial situation, and general level of happiness, Edinburgh consistently tops the charts.
Scotland's capital city is home to half a million people and steeped in sites of historical and cultural interest.
The Edinburgh Festival, Beltane Festival and Edinburgh's Festivities make it an exciting place to live – as there is always something to do and see.
For those who like to be close to nature, two-fifths of the city is Green Space so there is always a park nearby.
There are also parks that are resident only and buying a property in Edinburgh will give you exclusive access to your own slice of nature within the city.
The open countryside is accessible within half an hour from the city providing opportunities for hillwalking. Edinburgh also has some great beaches not far from the city.
The Pentlands on the outskirts has a ski run, so it's possible to enjoy your "après ski" back in Edinburgh.
With all this on offer, it's not surprising that Edinburgh has a robust property market.
The majority of areas are affluent which means it offers a variety of excellent places to live, and house hunters are spoiled for choice.
Aberdeen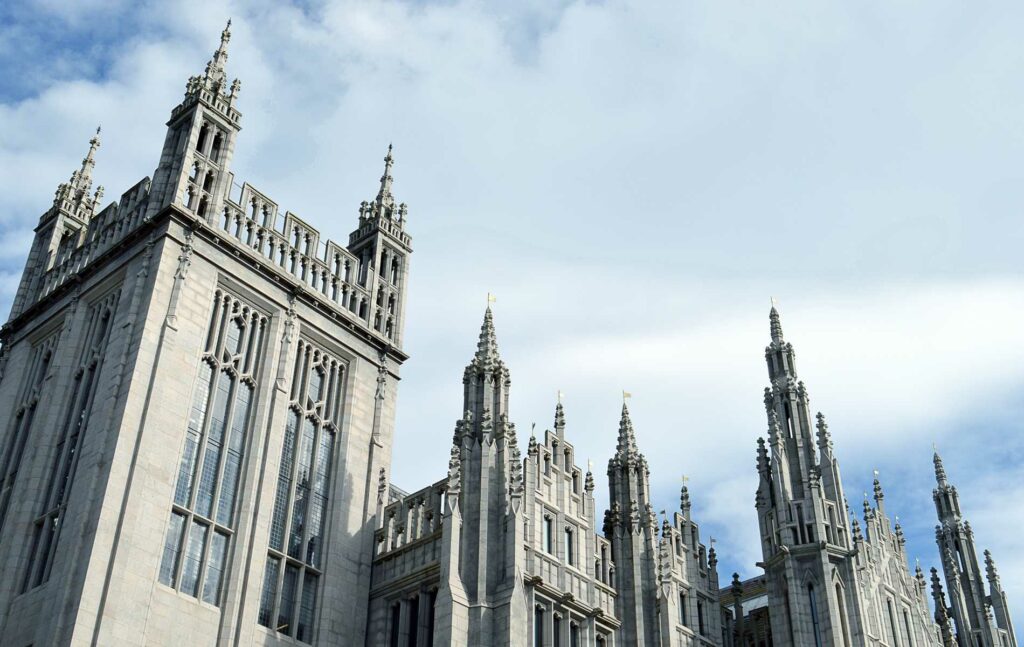 Scotland's third largest city, along with the surrounding region of Aberdeenshire, has a population of in excess of quarter of a million people, and boasts some of the highest standards of living in the UK.
While people don't tend to move to Aberdeen for the weather, the people are very friendly, open minded and inclusive.
This family-friendly city offers a variety of housing options and is in demand due to its location and high quality of living; it also has excellent transport links, schools and amenities.
Located on the east coast of Scotland, two and half hours drive from Edinburgh, it is close to both the mountains and the coast, with just a fifteen minute drive to access the beach, hills and countryside.
The nearby Cairngorms National Park offers hiking, skiing, wildlife, castles, distilleries, museums and more. 
Inverness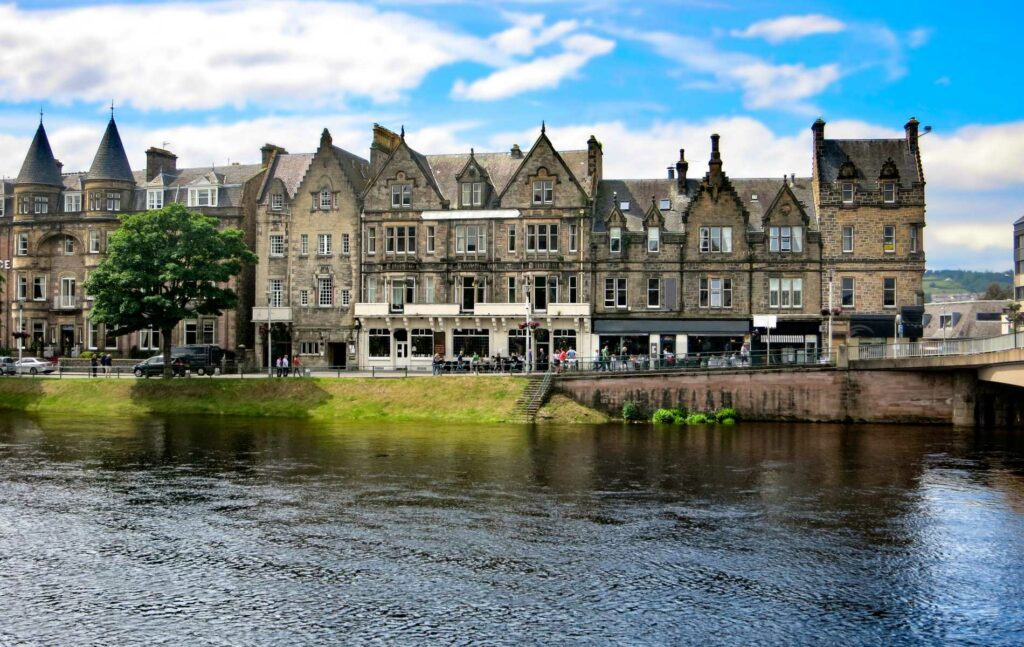 Inverness is the only city in the Highlands area and was given the city title as recently as 2020.
It is very much the commercial and business centre for the Highlands and is one of the fastest growing cities in Europe, with a population of circa 46,000.
Due to its rich culture and history, and proximity to sites such as Culloden Moor and Loch Ness, it attracts people from all over the world, so it is rather a tourist hotspot.
The city has been deemed one of the happiest places to live in Scotland and here you can enjoy the best of both worlds – city living and the great outdoors.
Inverness is three hours north of Edinburgh and Glasgow and offers plentiful choices for primary, secondary schools and colleges.
Transport links by road, rail and air are also excellent.
You'll find stunning scenery featuring glens, lochs and mountains in any direction you travel.
Perth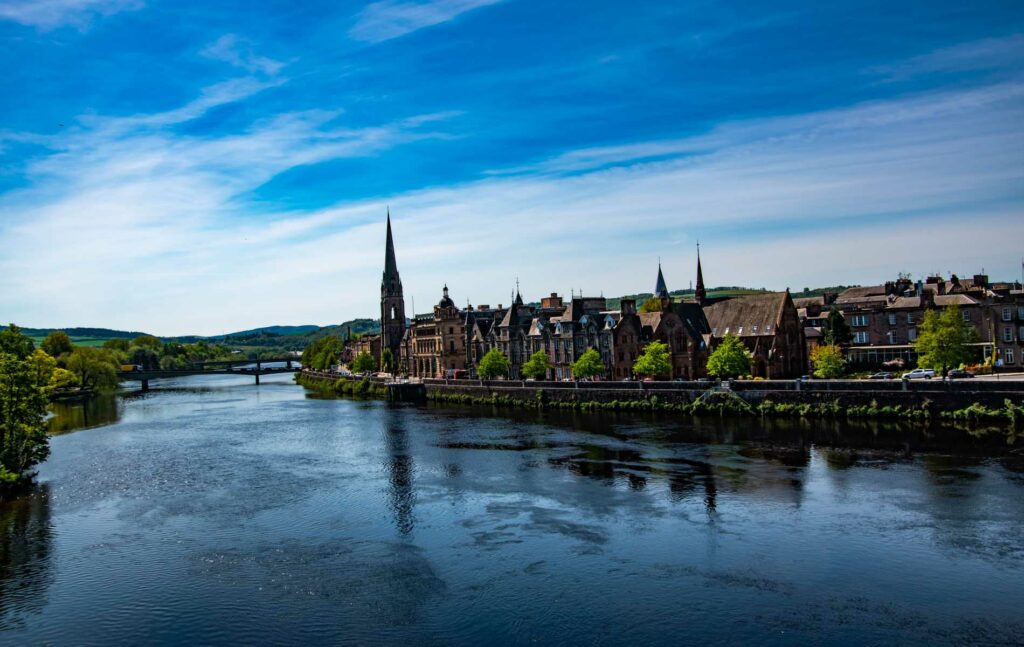 Perth is an ideal satellite to base your search for a home.
The city has a population of circa 44,800 and is just one hour north of Edinburgh and Glasgow on the banks of the River Tay.
In terms of residential property, Perth and the wider region offer an abundance of property choices for even the most particular home hunters.
The average price of housing is £150,000 less than Edinburgh, one hour's drive away.
Perth offers historic charm and a pedestrianised high street, and the city centre has a selection of eateries and cultural hot spots.
Schools in Perth comprise a good choice of nurseries, primary schools and secondary schools, made up of a combination of state run and independent establishments.
Stirling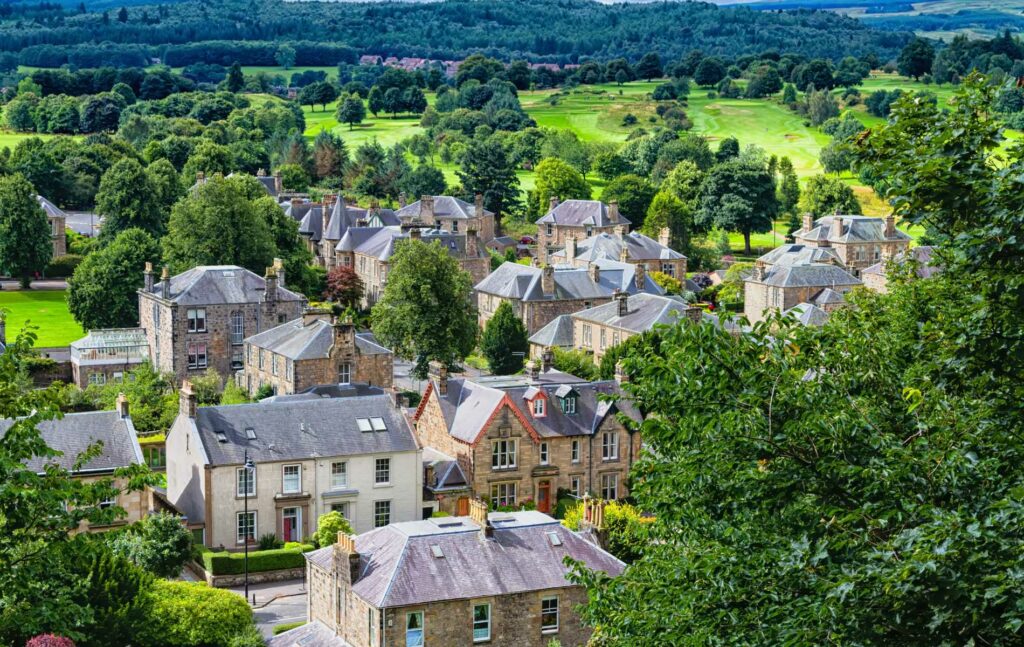 Considered a 'miniature Edinburgh' – the city of Stirling occupies a strategic location between the Highlands and Lowlands of Scotland.
Situate on the main A9/M9 route from the central belt of Scotland, the 'Gateway to the Highlands' is approximately an hour from Glasgow and Edinburgh.
One of Scotland's oldest cities with a population of circa 92,000, Stirling boasts a great nightlife, restaurants and historic sites on your doorstep.
It has nearby national parks, Queen Elizabeth and Loch Lomond and The Trossachs, for outdoor activities, and is just a short drive to towns such as Callander and Aberfoyle.
There's also Blair Drummond Safari Adventure on the outskirts to keep the family entertained.
Glasgow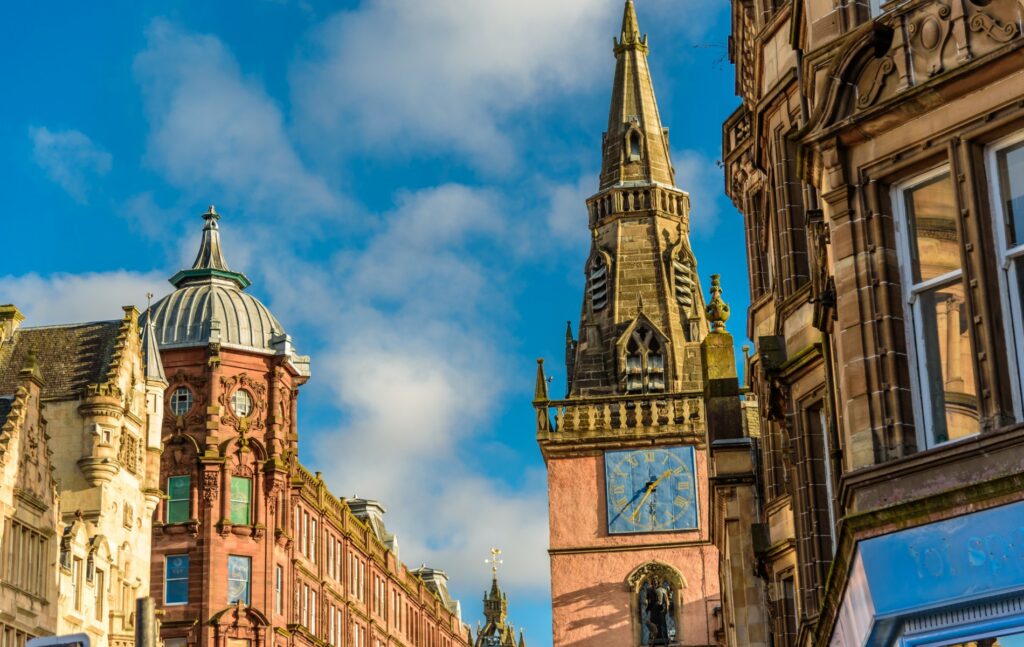 Scotland's largest city, Glasgow, is located in west-central Scotland and sits on the banks of River Clyde, just 20 miles from the mouth of the river where it meets the Atlantic Ocean.
The city's location has shaped its history, with shipbuilding being a large part of its economy in the past. Today Glasgow has a more diverse economy, with key industries including aerospace technology, software engineering, and renewable energy. The city also has a well-established university.
There are a number of reasons why it could be considered one of the best cities in Scotland to live in; the architecture is well preserved across much of the city and Glasgow has many wonderful green spaces including the beautiful Kelvingrove Park, and if you're looking for a location with a strong sense of community, Glasgow has been voted the friendliest city in the world.
In terms of places to live in Glasgow, the West End area is popular with neighbourhoods including Hillhead, Hyndland, Broomhill and Dowanhill all appealing to young professionals and students who attend The University of Glasgow. The West End is known for its stunning architecture, boutique stores and lively nightlife.
For families seeking a place to live in Glasgow, the northwestern suburb of Bearsden is particularly sought after, largely due to the exceptional schools in the area. A variety of properties are available in this leafy suburb, and for those needing to commute, Bearsden is also very well connected to the city centre.
Best cities in Scotland to live
As property finders, we often assist clients in deciding the best cities to live in Scotland based on their requirements and preferences.
Get in touch with one of Garrington's Edinburgh team to discuss how we can best assist in your search for a dream home.