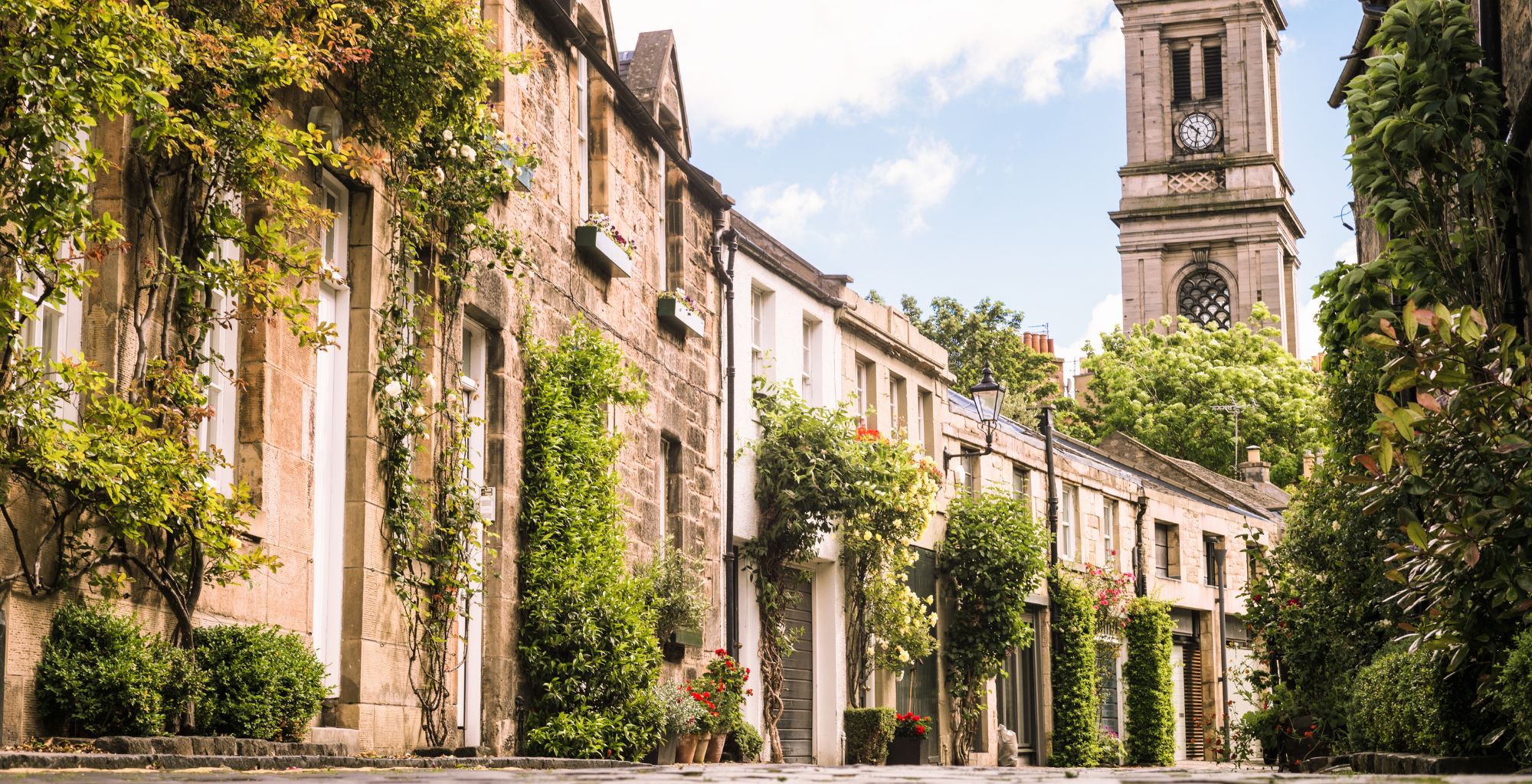 Living in Stockbridge, Edinburgh
Published Nov 10th 2023
4 mins read
Explore the benefits of Living in Stockbridge, Edinburgh, with expert local insight from Garrington.
If you are considering living in Stockbridge, you won't be disappointed by this picturesque village, with easy, walkable, access to Edinburgh city centre. Famous for its "Insta-ready" Circus Lane (a residential street with colourful front doors and hanging baskets of flowers), pretty cobbled streets and bohemian feel, Stockbridge is a vibrant area with a community feel.
What Types of Property are in Stockbridge?
Stockbridge is situated north-west of Edinburgh's New Town and is a popular area for families.
Property-wise, there are a variety of styles and sizes from elegant Georgian homes and beautiful sandstone buildings to townhouses on the very desirable Ann Street, and mews houses on Circus Lane and Dean Park Mews.
The Stockbridge Colonies – eleven parallel streets situated perfectly in between the parish church and the Royal Botanic Garden and with the Water of Leith flowing through the middle – are very popular. Originally built between 1861 and 1911 to provide low-cost housing for the artisan class, these homes are perfectly situated for ease of access to the city centre and their outstanding location.
For smaller families and professionals, there are large apartments available, typically within traditional Victorian and Georgian tenements.
Schools in Stockbridge
There is an excellent choice of schools in and around Stockbridge, some of which we highlight below. Edinburgh City has four universities (Napier University, The University of Edinburgh, Heriot-Watt University, and Queen Margaret University) offering exceptional opportunities for further education. There are also several specialist schools including the Royal Blind School.
Primary Schools in and Around Stockbridge
Stockbridge Primary School;
Flora Stevenson Primary School;
George Heriot's School (an independent which offers schooling up to age 18);
Secondary Schools in and Around Stockbridge
James Gillespie's High School – a co-educational comprehensive school for students aged 11-18. It also features a Gaelic language unit for students looking to continue their Gaelic Medium Education;
Broughton High School – known for having both specialised music and dance departments, it is also one of seven schools in Scotland chosen by the Scottish Football Association to support young footballers;
Drummond Community High School – a non-denominational co-educational secondary school;
Independent Schools Near Stockbridge
Edinburgh Academy – offering private education for children aged 2 -18
Fettes College – a co-educational for students aged 7 – 18. Students can attend as a day pupil or boarder;
Merchiston Castle School – a boys-only independent boarding (and day) school for students aged 7 – 18;
ESMS – a co-educational boarding school for boys and girls aged 10 – 18 years;
St. George's Private School – for girls aged 3 -18. Students can attend as day pupils or boarders. Currently, provisions are being made to start accepting boys. The school has an exchange programme with partner schools across the world.
Green Spaces
If you are lucky enough to be living in Stockbridge, then you have your pick of green spaces in and around the area. Edinburgh is the UK's greenest city with almost half of it (49.2%) being classed as 'green space'.
And with over 130 public parks and more trees per person than any other city in the UK, you won't have to go far to get away from it all.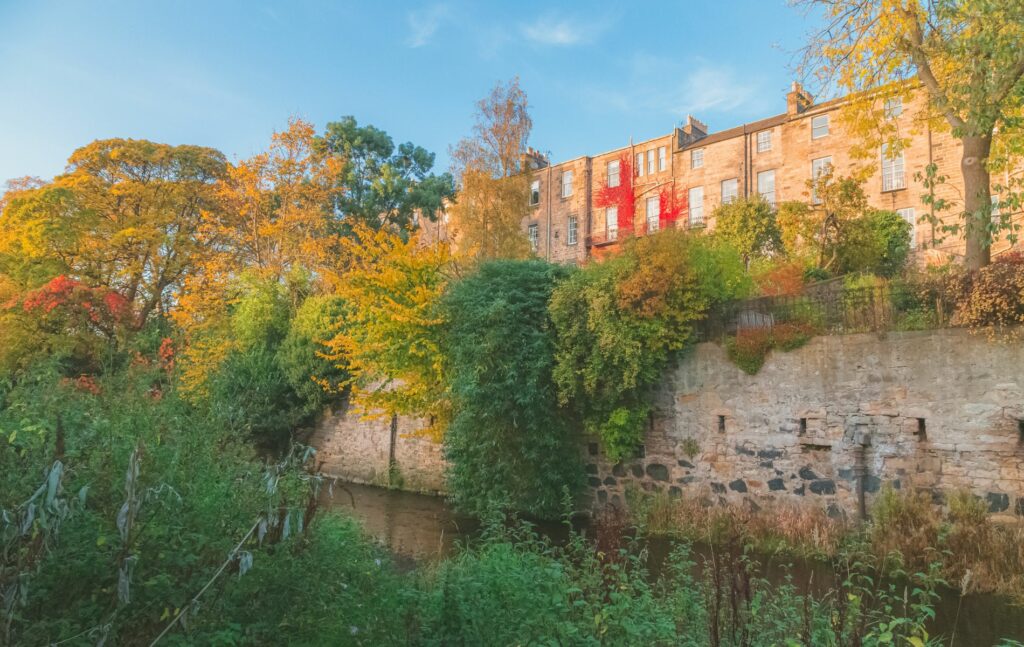 The Royal Botanic Gardens Edinburgh
Literally on your doorstep in Stockbridge, the Royal Botanic Gardens are set in over 70 acres of beautiful landscape. Features include the Rock Garden, Woodland Garden, Pond, the Chinese Hillside, and the Scottish Native Plants Collection.
You can enjoy a coffee or a light bite at one of their dining spaces and shop for a botanically inspired gift in the visitor centre.
Inverleith Park
Also in Stockbridge is Inverleith Park, a major 54-acre public park. It hosts around 400 events every year and has designated spaces for sports activities such as petanque, rugby, football and cricket.
There is also a boating pond as well as a marsh area featuring a wooden walkway surrounded by reeds. Like the Royal Botanic Gardens (above), you can get great views of Edinburgh Castle from the park.
It's a great place for picnics, dog walking and sports.
Holyrood Park
Home to the famous Arthur's Seat (the park's highest point created from a now extinct volcano) Holyrood Park is a royal park with a long history. Traces of a Bronze Age settlement remain, and four Dark Age forts are still visible on the rocky slopes of the park.
The 650-acre park features lochs, glens, ridges and cliffs and has many natural features such as Salisbury Crags cliffs and Samson's Ribs – a formation of columnar balsat.
There are cycling paths as well as walks and wildlife spotting.
Stockbridge, Edinburgh Transport Links
Being within walking distance of the city centre, Stockbridge has access to excellent transport links. The nearest train station to Stockbridge is Haymarket – approximately a 20-minute walk away.
Edinburgh's other mainline train station – Edinburgh Waverley – is linked to Haymarket and it takes approximately 5 minutes to travel by train between the two.
Trains from Edinburgh to London take an average journey time of around 5 hours.
There are also two smaller railway stations, Edinburgh Gateway and Edinburgh Park Station, generally serving regional destinations.
Edinburgh Airport (typically less than a 30-minute drive from Stockbridge) offers flights to London as well as Europe and beyond.
There is also a comfortable tram service, making it easy to get around the city if you're living in Stockbridge.
Places to Eat, Drink, and Shop in Stockbridge
Stockbridge has lots of wonderful places to eat and drink. From Swedish waffles and NYC deli-inspired bagels to Michelin-starred restaurants and gastropubs, you will be spoilt for choice.
You can enjoy a leisurely brunch at one of the many eateries in the area and on a sunny day, enjoy a coffee outside while people-watching and enjoying views of the Water of Leith.
For shopping, visit the local farmers market every Sunday and take your pick from arts and crafts to pastries, cheeses and sweet treats.
Or browse one of the many independent shops within Stockbridge for clothes, jewellery, gourmet foods and antiques.
If you are looking for the more traditional high street shops, then the city centre is only a short walk away.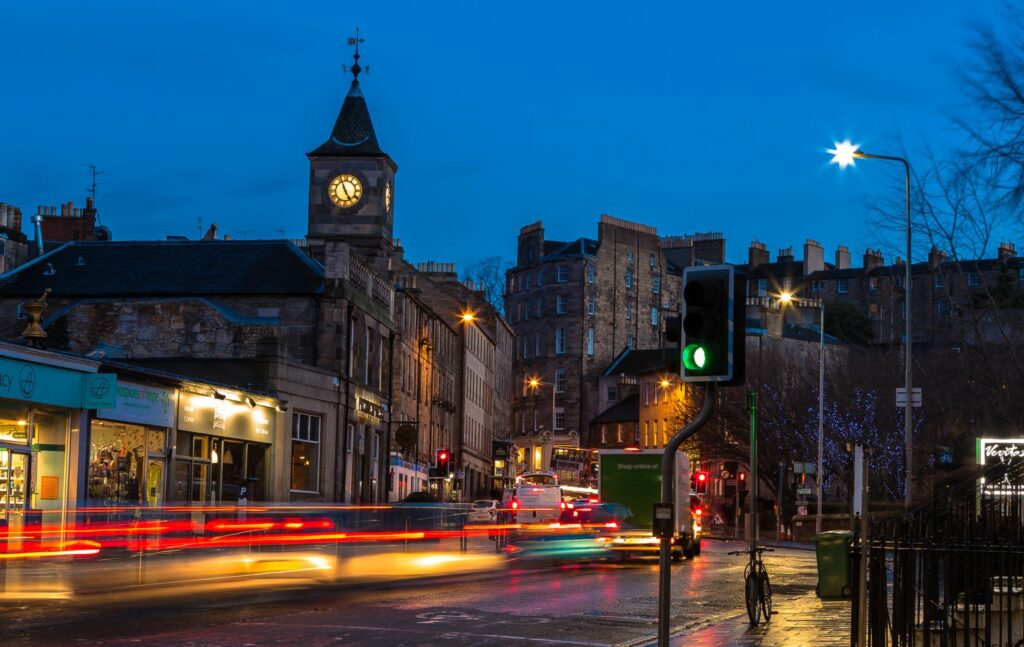 Why Consider Living in Stockbridge?
Stockbridge is renowned for its picturesque streets, historic architecture, and green spaces. The area has a quaint and charming feel, making it an appealing place to live for those who appreciate a more relaxed and scenic environment.
It is close to several beautiful parks and green spaces, including the Water of Leith Walkway and the Royal Botanic Garden, making it appealing to individuals and families seeking outdoor recreational activities and a connection to nature.
There are excellent schools and four universities – great for families looking for top-notch education.
Stockbridge is also conveniently located near Edinburgh's city centre, so it is easily accessible for those who work or study in the city.
If you are thinking of living in Stockbridge, then please contact us at Garrington Property Finders – we'd be delighted to help you find your perfect home.