Property finders advice | Buying a castle in Scotland
Published Apr 5th 2019
3 mins read
For many people, buying a castle in Scotland is the ultimate dream.
The thought of living in a grand, historic property steeped in centuries of rich culture and tradition is an alluring prospect. However, buying a castle is not for the faint of heart. It requires a significant financial investment and a willingness to take on the responsibility of maintaining a property with a complex history and unique set of challenges.
In this blog, we'll take a closer look at what it takes to buy a castle in Scotland, from navigating the legal and financial considerations to understanding the practicalities of castle ownership.
Whether you're a history buff, a property enthusiast, or simply someone with a taste for the grandeur of a bygone era, this guide will provide valuable insights into the world of castle ownership in Scotland.
Early castles
In the late medieval era the structures were largely motte and bailey, wooden built structures surrounded by a ditch, accessed only via a bridge. Many of these castles were destroyed in the wars of Scottish Independence.
After the Wars of Independence new castles were slowly built across the country and on a grander scale than the earlier built castles, Tantallon Castle in East Lothian is an example of one such castle.
Scotland's history is filled with many an invasion or war and thus there was a need for fortified structures. Many castles are built in tactical locations for this reason. In times of peace castles acted as an administrative centre for the Laird or clan leader.
Many castles were primarily used as military garrison or barracks from the 1600s onwards, especially as weaponry had moved on and castles were not designed to house cannon defence or withstand the impact of a cannon attack.
As times became more settled there was less need for fortified castle dwellings and nobles instead favoured country house style homes, some being built with castle features; castellated houses.
Famous castles
Edinburgh Castle, standing high above the capital city, is built upon a craggy extinct volcano. Scotland's most famous and perhaps most important castle it attracts visitors all year round. The castle is home to the Crown Jewels, Mons Meg and the Stone of Destiny.
Balmoral is a private home of the Royal Family but when they are not in residence visitors can enjoy the exhibitions which are put on in the ballroom and also take a walk around the gardens.
One of Scotland's most enchanting castles, Cawdor Castle is the fictional home of Shakespeare's character Thane of Cawdor in Macbeth. Cawdor Castle is located in the Highlands and welcomes visitors to its many attractions – as well as taking in the history of the castle there is also a golf course, a restaurant and several shops.
Stirling Castle has been meticulously restored to its original Renaissance glory and is popular with tourists seeking a look at life as it would have been.
The ancient seat of the Dukes and Earls of Atholl and home of Europe's last remaining private army, the Atholl Highlanders, white-washed Blair Castle stands against a backdrop of wooded hills. Visitors can explore the many rooms on display full of Scottish cultural history and period artefacts.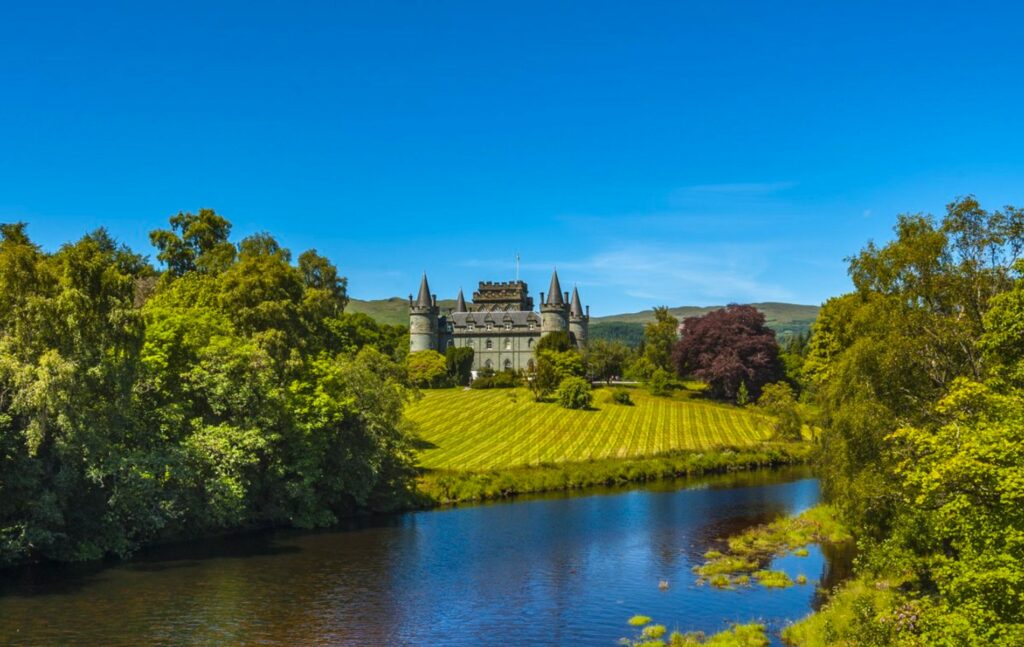 Types of castles in Scotland
Depending on your price range, style preferences and which locations you'll consider there are many types of castle or castellated property to consider. Some castles such as Fetteresso Castle in Stonehaven have been converted into several dwellings meaning you can purchase your very own slice of history whilst not taking on the whole building.
From well-kept 16th century houses which have been sympathetically restored to castellated Tudor style gothic mansions, each castle is entirely unique and will have undoubtedly been impacted by each owner over the likely hundreds of years it has been used as a residence. Whilst many castles are now listed buildings before the listed system was in place the owners at the time could make any addition they so wished, meaning some castles display a mixture of architecture from varying periods in history.
Living in a castle
Whilst you may be entirely taken by the prospect of owning and living in a fairytale-esque castle complete with Rapunzel towers and walled gardens it's important to factor the ongoing maintenance and running costs that will be due.
Many castles come with land, perhaps with workable land, some owners may already let the land to tenants and others might use it themselves. It is likely that there will be some income revenue in place if the property comes with a large amount of land. In many cases castles also have other properties within their grounds and in many cases these might be being let out. Understanding the commercial aspects when purchasing a castle or estate is of utmost importance.
Similarly the lands might lend themselves to sports, in certain parts of Scotland more than others it is likely the land will include part of a river or private access to a Loch and the potential for fishing or other activities.
Buying a castle in Scotland
Whether you are seeking a restored castle or a castellated house our professional property finders would be delighted to assist your search for the ideal property, to learn more about our property finding services please contact us.