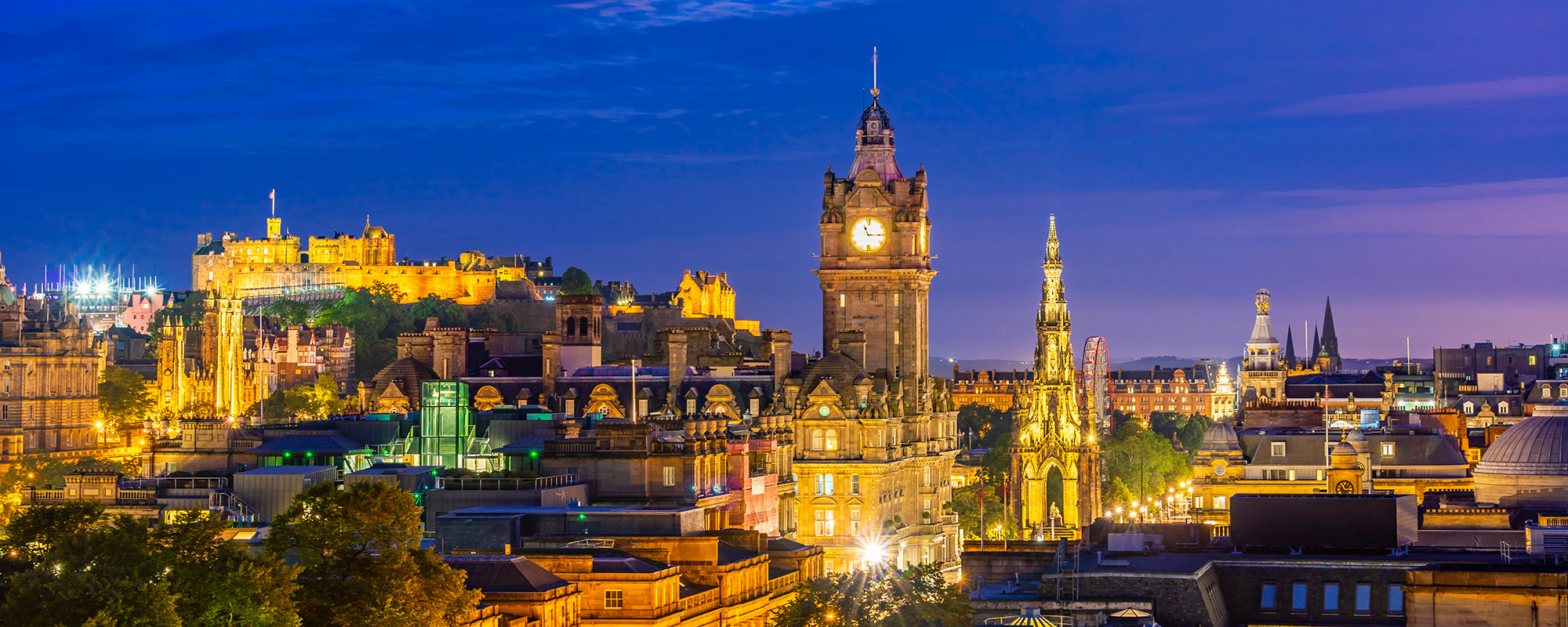 Scotland Property Market – Spring 2019
Published May 31st 2019
3 mins read
Garrington's recently published UK Property Market Review highlights that spring leading into early summer is typically the busiest time of year for property transactions, and whilst we anticipate a seasonal uptick in activity levels the market remains constrained by various factors.
But do such trends apply north of the border and what are current market conditions like in the Scotland property market?
With ever increasing demand and lack of supply driving values higher, rates of growth here have outpaced many other parts of the UK, although things were slowing a little in the first quarter of 2019, with the latest Registers of Scotland House Price Index indicating a 0.2% decrease in overall house prices across Scotland as a whole. Like the rest of the UK, this is no doubt due to the uncertainties surrounding Brexit, although with that considered the market has remained surprisingly robust.
The prime market in Scotland
The prime residential market (typically properties more than £1 million) has defied the national trend and by contrast has seen its best performance in many years across the country, with the most sought-after areas of Edinburgh currently achieving figures between 7-10% above home value report, based on latest industry data. Across all price bands in Edinburgh, average sale values are up 3.7% year on year.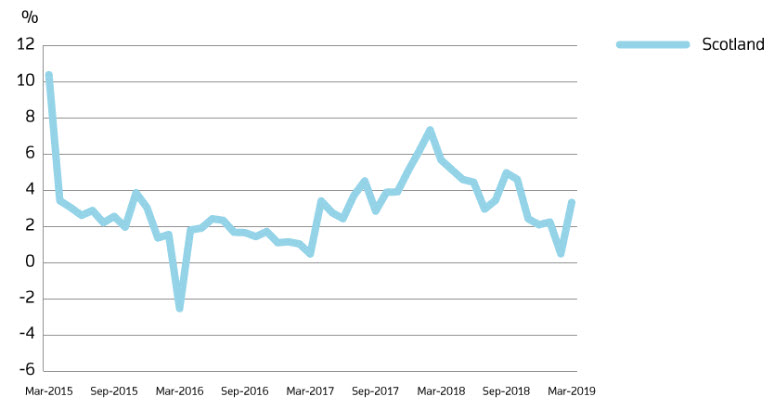 Edinburgh is still one of the fastest growing European cities by average price, and with ever improving international flight connections, is still a remarkably affordable destination city, meaning demand is ever increasing.
Scottish city property trends
Glasgow has seen a 5.7% growth in the past year according to HomeTrack, which has been aided by significant economic growth and demand is noticeably high for family homes in the affluent fringes of Glasgow, where good schooling is top of the agenda.
Despite a recovery earlier in the year, Aberdeen house prices are now down 4.5% year on year. However, the long-term outlook for future appreciation is still likely to be a lure for investors.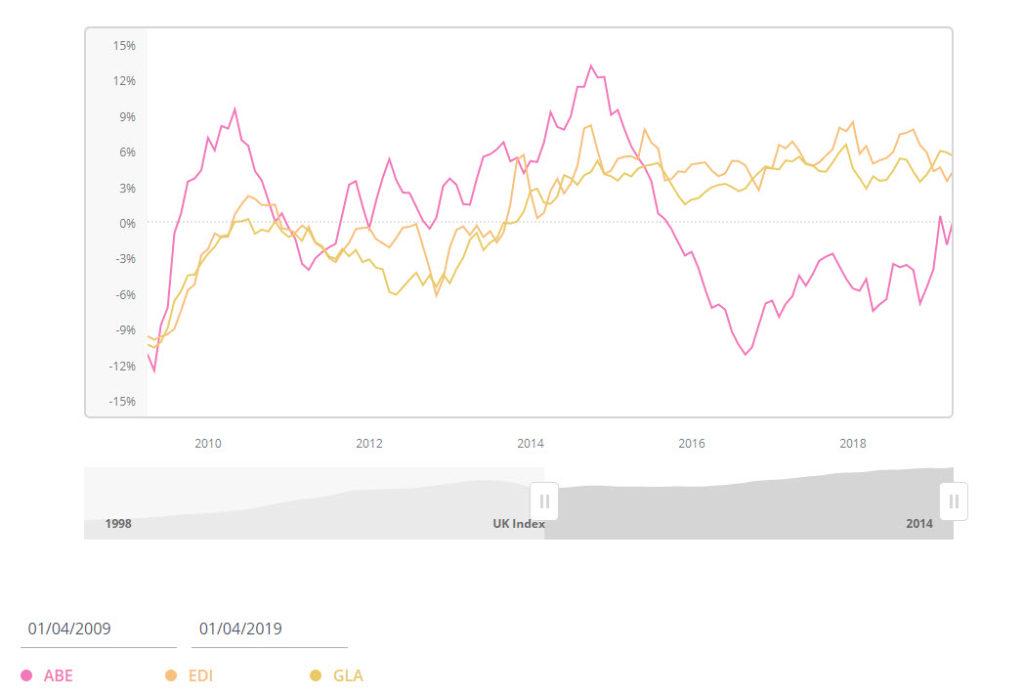 High levels of rental demand in these cities adds markedly to the appeal, with university students increasingly contributing to the competition for quality accommodation.
Rural property market in Scotland
There has been a marked increase in activity and price rises in some rural areas within commutable distance to Edinburgh, with the disparity in values sitting at approximately 30%. As a consequence, locations such as Midlothian have seen average property prices rise by an eye watering 9.9% over the last year as buyers are enticed by the relative affordability.
Outside Edinburgh and Glasgow, Fife is a popular commuter county with the highest value prime market, much contributed to by the international appeal of St. Andrews.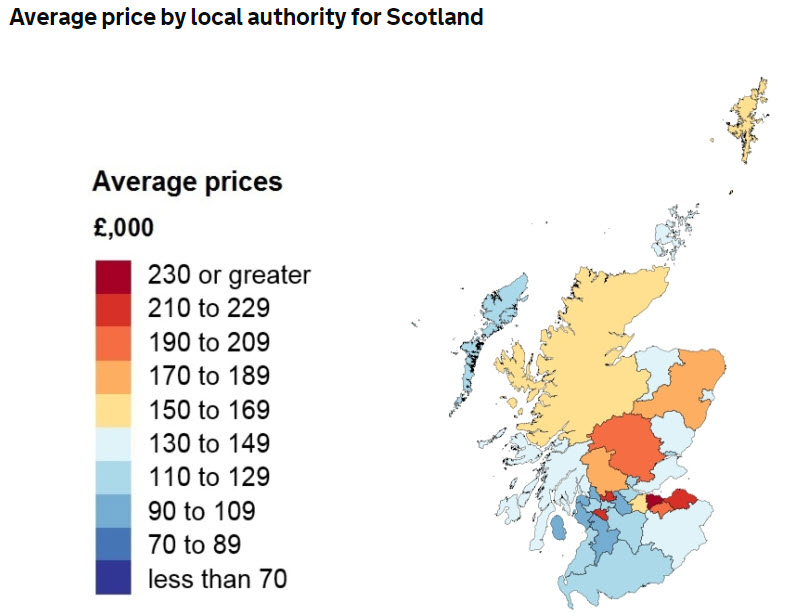 East Lothian is still one of the most popular and valuable rural history counties, with transaction levels increasing in North Berwick and Gullane noticeably helped by an increase in new build activity.
East Renfrewshire, Midlothian, Falkirk and North Lanarkshire have also seen significant value growth in recent months along with desirable areas of the Scottish Borders such as Peebles and Melrose (although the marketplace in Berwickshire has remained slow).
More rural areas of Scotland appear relatively stable, which is positive all things considered, and demand for second homes in Argyll & Bute such as Oban has noticeably increased according to industry data.
Outlook
Challenges facing the property market in Scotland have been mainly created by the changes in recent years to Land and Building Transaction Tax rates. In addition to this, the recent increase of the Additional Dwelling Supplement from 3% to 4% in January 2019 has contributed to a slower start to the year.
Moving forward, these factors combined are likely to further suppress transaction levels and the supply of new property for sale in the market. Rightmove has already reported that the areas outside of Scottish cities have seen an 8% fall in the supply of prime listings. Whilst this does not bode well for increased transaction levels, it will nonetheless further underpin values.
With parts of Scotland seeing price falls of 7% and other parts rising by over 10% there is no reliable sweeping answer to the state of Scottish market so far in 2019. Instead what we are seeing is an increasingly polarised market that requires in depth knowledge to make well informed and confident property purchasing decisions.